Wind Vane Self Steering S - 600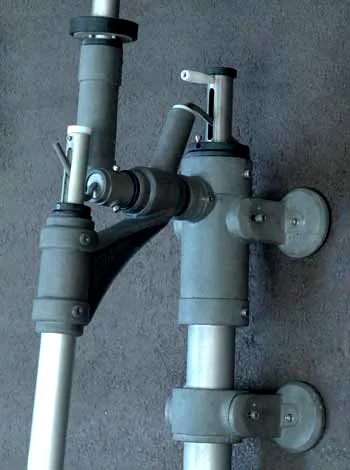 Description.
when a servo pendulum self-steering wind-vane like the S 470 cant fit the requirements of a given sailboat (Hydraulic rudder gear, very big force needed to turn the rudder, etc), our auxiliary rudder systems are the way to go.
How Does our Self Steering Wind vane Work?
Our Self Steering Wind Vane: S 600.
The S 600 uses a servo-pendulum to drive an auxiliary rudder. The combined unit features the same construction details as the S 470. The body construction is high-grade aluminum-alloy castings. The linkage between the servo-pendulum and the auxiliary rudder is a stainless steel rod that's easily disengaged. You can easily fold up the servo-rudder, the auxiliary rudder is designed to stay in the water. You can, however, quickly engage the rudder to the servo when the servo-pendulum rudder is in the working position.
Advantages of our Windvane

" Adjustable vane (for strong or light wind)
" Vane fixing in central position
" Adjustable power transmission
" Easy to start and stop operating
" Lift up swinging rudder, + - 170 degrees
" Protection against overloading
"Autopilot option: a pin fitting for an Autohelm or Simrad cockpit autopilot is provided as standard on the windvane arm
" Detachable auxiliary rudder
Adaptability
"Length of air vane mast, pendulum shaft and tiller arm customised to fit each individual boat.
Strength and Durability
South Atlantic, uses a 100% sea water resistant alloy.
South Atlantic grants a lifetime guarantee against damage in the material (aluminium).
Materials
" Sea water resistant aluminium,
" POM bearings.
" Servo rudder, Wood made up with [bituminous]
" 6 mm polycarbonate vane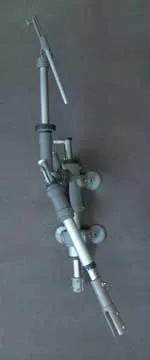 LOA
Serie S-600 G:< 18 m / 60 ft
Displacement
Serie S-600 G: < 30.000 kg
Easy To Install!!!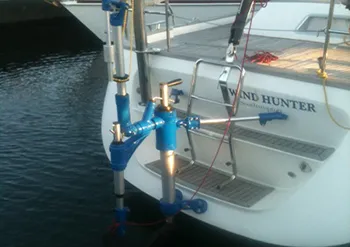 It is quite simple. Most customers do the installation themselves. The fact that the South Atlantic windvane uses a universal mounting principle, you are always sure that the mast tube will be vertical, as required.
Windvane and Autopilot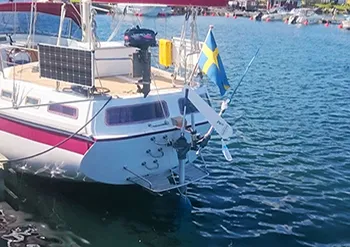 The windvane is used 90% of the times after both systems have been installed! " When a sailboat sails under sails, the wind steers better!
Windvane and Autopilot
Almost 100% of windvane buyers had an automatic pilot on board before the purchase! " The windvane is used 90% of the times after both systems have been installed! " When a ship sails with sails set, the wind steers it better!
Save 5% on every order!

Price List:
South Atlantic
Prices (FOB)
S-600
3990,00 € * (+-4655 USD)
S -600 + Off shore kit
4465,00 € * (+-5210 USD)
Check Currency converter
South Atlantic S 600 units include:
* Standard Mounting.
* 1 Air foil.
* 1 blade.
* Manual

Offshore Kit (recommended only for offshore cruise)
* 1 Windvane(1)
* 1 Rudder,
* Bearings for windvane, shaft

Terms: 30 % deposit with order. Full payment before shipment. Read More


Wired transfers directly to our bank; (contact us for wire transfer information).
Bitcoins, ETH, LTC and many more cryptocurrencies (contact us for transfer information)
Money order, Personal checks and certified check are subject to a clearing. period.
Paypal
Note: Offers can not be combined.

Delivery: Immediate to 6 weeks as quoted when ordered.
SHIPPING: We cannot be responsible for any fees, charges, delays or problems caused by shippers or customs once the shipment leaves our factory. Customs procedures and charges vary from country to country. Please check with local officials to get an idea of costs. International customers are responsible for any import duties and taxes associated with their order. Read More

Prices, design, and specifications: are subject to change without notice. Neither manufacturer nor seller shall be liable for any damage to the yacht, persons, or property due to failure of the Self steering or misuse of the same.
Prices do not include fright. However, local and international taxes on the product have to be paid. Check Terms and Conditions of Sale

Each system warranted for three years of first owner's use against defective materials and workmanship plus our life- warrantee on damage in the material (aluminium) made by weather.The warranty does not cover transport or visits to the vessel, and proof of purchase must be supplied.

Offers valid until 31- 12- 2019 *.